Economic News of the Wiregrass
Roger Peterson Thursday 2 August 2018
We must discover the power of Love, the redemptive power of Love. And when we do that, we will make this old world a new world – for Love, Love is the only way.
Dr. Martin Luther King as quoted in the 14-minute sermon by Rev Michael Curry at the 19 May wedding of Harry and Meghan, Duke and Duchess of Sussex in London while I was there watching the wedding on TV with my wonderful London-based kids.
The National Scene:
Despite all the heated rhetoric and uncertainty concerning international trade and the apparent decline of global economic trends, the United States stands alone in the world with a strong economy and a bright outlook. By every measure, the United States is in good economic health which is likely to continue.
JOBS: The most exciting news is the jobs report. Total nonfarm payroll employment increased by 213,000 in June, and the unemployment rate rose to 4.0 percent from 3.8% because of more individuals entering the work force from the sidelines. This is the best overall jobs picture since the beginning of the recovery.
GDP: Recent estimates for US economic output in the second quarter continue to anticipate a robust acceleration after the subdued rise in Q1, based on the median of several forecasts compiled by The Capital Spectator. The current projections see real GDP growth in Q2 picking up to 3.7% (seasonally adjusted annual rate) from Q1's 2.2%. The Bureau of Economic Analysis is scheduled to publish its initial GDP report for the second quarter on July 27.
The strongest Q2 estimate in the group is the Atlanta Fed's GDP Now model, which expects a sizzling g 4.8% gain in Q2, as of the June 1 update. At the low end of the scale is CapitalSpectator.com's 2.6% projection, which is based on a simple linear regression of the so called Big-4 economic indicators: payrolls, industrial production, real personal consumption expenditures, and real personal income excluding current transfer receipts. It will be interesting to see how these forecasts pan out.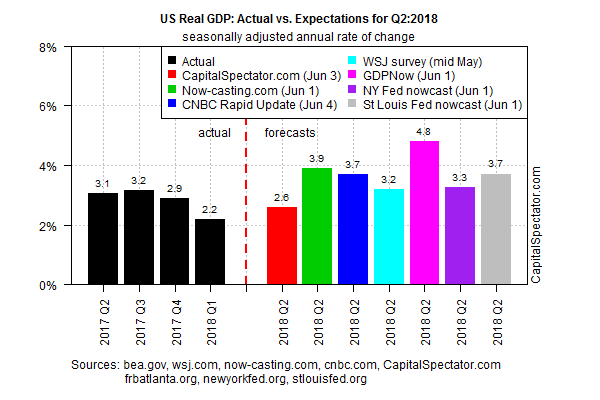 INFLATION: Inflation for July 2018 is 2.5% which is just above the Federal Reserve's 2.0% target. Inflation is a double-edged sword. Rising inflation provides an incentive for business to buy ahead of rising prices for goods used in their business. It can be a joy for property owners who see the value of their real estate and equipment increase in value. It is sad for consumers at the grocery store and gas station as wages are slow to increase as the same rate as inflation. Those on a fixed income see their buying power decline as inflation increases while their income remains constant.
Alabama Economy:
Employment: The unemployment rate for Alabama in May 2018 was 3.7 percent which is down from last year's 4.6% which suggests that the jobs picture in Alabama is improving significantly.
Housing: The balance between the supply of houses for sale and the demand for housing appears to favor demand over supply with modest price increases year-over-year, with a decline in the number of units listed resulting in a significant decline in the Months of Supply (-10.6%). The imbalance appears to be mild as the Days of the Market barely moved (-0.8%) suggesting that a lack of saleable inventory is a factor while the increase in payrolls has not yet taken a bite in the Alabama housing market.
Area
State Wide
Current Data
Q1 2018
Compared to
Q1 2017

% Change
Median Price
$148,366
$138,531
+7.1%
Average Price
$176,142
$162.950
+8.1%
Units Listed
23,755
26,064
-8.9%
Months of Supply
5.9
6.6
-10.6%
Total # Sales
12,481
12,189
+2.4%
Days on Market
140
139
-0.8%
A Look at The Wiregrass
The eight Southeastern counties of Alabama are often called the Wiregrass. The economic statistic (not including Dothan) most readily at hand is from the Alabama Center for Real Estate.
Area
State Wide
Current Data
Q1 2018
Compared to
Q1 2017

% Change
Median Price
$121,500
$110,500
+10.0%
Average Price
$138,132
$124,522
+10.9%
Units Listed
742
704
+5.5%
Months of Supply
6
6
0.0%
Total # Sales
246
231
+6.5%
Days on Market
141
161
-12.3%
On the whole, the Wiregrass market is moving forward at a modest pace.
Economic Outlook for Dothan
Housing:
Area
State Wide
Current Data
Q1 2018
Compared to
Q1 2017

% Change
Median Price
$148,967
$138,953
+7.5%
Average Price
$161,898
$158,692
+2.0%
Units Listed
1,122
1,099
+2.1%
Months of Supply
17
19
-11.04%
Total # Sales
450
347
+10.14%
Days on Market
137
65
-16.9%
The Dothan housing market appears to be chugging along at a fair pace with prices up and inventory declining while sales continue to move up (+10.14%) with more sales on a lower inventory base from which to sell.
There may be help on the way to increase the inventory of available new houses as the number of building permits for April 2018 shot up to record setting 22 units valued at $6.6 million. The May 2018 data showed an average 10 units at $2.9 million. Together that is 32 units at a value of $9.5 million for just two months. Should this record setting pace continue, the Dothan housing market could be on the mend to provide more new and fresh inventory.
Houston County Employment: The unemployment rate is 3.8% versus a state average of 3.9%. Other Wiregrass counties show similar good news:
Henry 4.2%
Dale 3.9%
Coffee 3.7%
Geneva 3.8%
Sales Tax Receipts City of Dothan: Sales tax receipts for the fiscal year to date in July were up 1.74% over last year. As mentioned in this paper before, sales tax receipts can be viewed as a measure of the level of business activity in the community. With this assumption the business activity for Dothan doesn't match the inflation rate. This in turn, suggests that in real terms business activity in Dothan is falling behind. Not good news indeed.
Hospitality Industry: The hospitality industry continues to be a bright spot in the Dothan economy. Revenues climbed 29.28% year to date over last year. This industry is an important contributor to the economy and the labor force of Dothan with many thanks to the leadership of the Dothan Convention and Visitors Bureau who scour the nation to book events that draw visitors to Dothan,
Conclusion: While the economy of Dothan continues to grow in a positive direction with ups and downs along the way, the many efforts of the Mayor and city leadership, Dothan Area Chamber of Commerce, numerous civic and private groups – all invest a huge amount of energy and effort to secure new businesses or aid and assist existing businesses to grow and prosper in Dothan. Time will reveal the success of these constructive efforts.
For A Smile
Uncertainty at the political level
Roger Peterson sbcrpeterson@outlook.com -- V 1.0 -- Thursday 2 August 2018
The Economic News of the Wiregrass is offered free of charge as a public service to the community and does not represent the views of SunSouth Bank or its employees. It is produced by the author using a wide variety of media sources including: The Wall Street Journal, the Financial Times, Bloomberg.com, Econoday, Capital Economics, U.S. Bureau of Labor Statistics, Federal Deposit Insurance Corporation, U. S. Federal Reserve, Market Watch, CNBC News, the Dothan Eagle, Barron's, Fortune, The Economist among others without attribution. The views and comments expressed are solely those of the author. There is no intention to offer investment or tax advice and readers should consult a professional advisor of their choice. There is no claim for the complete accuracy of the information and any errors or omissions are unintentional.
---